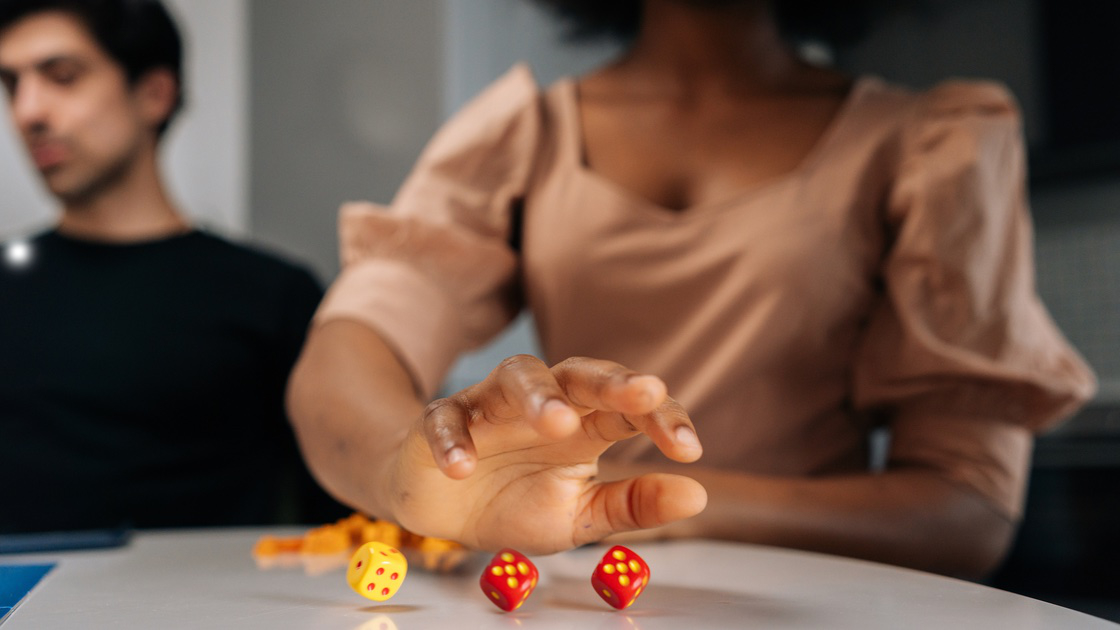 How to host and what to bring to a bunco party
Liven up your Bunco group with these ideas for friends, girl's night, or family
From dessert dashes to seating arrangements, you can go all-out or just add a few extra touches to your next Bunco tournament, party, or game night.
Bring the food and snacks on Bunco night
There are lots of fun ways you can structure food, drinks, and snacks depending on how much fun you want to have at your opponents' expense.
You could:
Have a tier of "good to best" food, drinks, and snacks. Like placing cheesecake at the head table and carrot sticks at the lower table numbers. That way as people rotate, they're rewarded for their winning.
Set up a single table as a "buffet", with everything available for people to freely pick and choose as they wish to carry back to their table.
Consider a "dessert dash" at the end of the night where the top winners get to pick the best or favored desserts first or entirely for themselves. This assumes the rest of the night is filled with more savory snacks or no food at all.
Traditionally the host provides the venue and everyone else chips in on food and prizes. Sometimes the host will provide everything, or just the venue, or just drinks. Ask before you attend your next party or host a Bunco night.
You could also consider a seated dinner party style event, where everyone eats a traditional before playing.
Consider special seating or snacks for the head table
In Bunco, winners stay or move to the head table. Being at the head table brings benefits, like being able to determine when the round ends and the next round begins. The head table rings the bell to start each round and sets the pace for the entire game.
In addition to reserving special food for the head table, special drinks can be awarded, too, like offering people their first adult beverage of the night, or more valuable drinks like cocktails instead of beer. The head table could also have better seating, if available, with plush chairs decorated to indicate their vaulted status.
Bring money to ante up the prize pot
Bring some cash to put into the shared prize pot. You can play Bunco with all sorts of variations in who captures money or wins prizes.
We have a whole guide on how to play Bunco with real (or sorta real) money
.
Small prizes are common, too. Fuzzy die are traditional items to bring, at least to hold to indicate whoever is the biggest loser, winner, or scorer of things like round wins, most mini-Bunco, etc.
Use these handy, free Bunco score sheets to keep track as you play the game
. Each score sheet can be assigned to a table or a player as an individual scorecard. You can also use index cards or scrap paper as an individual scorecard for miscellaneous scorekeeping, like who has the most "snake eye" rolls among three dice, most baby Bunco rolls, and more.
How many prizes do you need for Bunco or a Bunco party? Like any party game night it depends on the size of the group.
The target number of players for a Bunco party is 12. That's enough to make for fun, dynamic table rotations with lots of friendly banter. It's also enough to sweeten the prize pots without making moving between tables in the next round cumbersome.
But you can go larger or smaller, with the easiest scaling done in multiples of four. Traditionally there are three tables of four players each.
You can learn more about scaling up or down your Bunco group here
.
Bunco party logistics that make the night go smoother
There are several Bunco supplies and things the Bunco host should consider or assign to a person to bring. They'll make the game move smoother through the night:
Chairs for each player
Tables for all players. A card table, even a long one, can work well if it seats enough people and no one's on top of each other as they play the game.
Dice for everyone. Each table needs at least three dice.
A bell or noise maker for the head table (to indicate when the game starts. It's more fun than just yelling!)
Table signs to indicate table numbers, the head table, or even special names for the teams sitting there.
Name stickers or signs for people to wear or carry with them. This is particularly useful if the players aren't close friends or many haven't met before.
A "Bunco bag" you can use to put small prizes in (or coupons). This way people who win each round can reach in and randomly pull out a prize. Use slips of paper, easter eggs, or even small random objects if prizes can't fit in the bag.
Hand sanitizer and cleaning supplies, in case someone spills anything.
A printed sheet of Bunco rules is helpful. We have a page of Bunco rules to consult if you have phones or tablets handy. Useful if someone encounters a weird situation or needs clarification at one point.
Colored arm bands are cheap, and a useful way for people to indicate team mates. Each table consists of two teams.
Grand Bunco night ideas to prove how serious you are
If you really want to prove to your friends how serious you are about your favorite dice game, these ideas really elevate your Bunco party to next-level status:
Play Bunco with special music playlists designed to keep conversation flowing, but people upbeat and ready to roll.
Set up a laptop or television so you can broadcast the round number, how many rounds played, rounds remaining, time, or even live score data if someone can enter them fast enough. This is a useful way to involve someone who maybe doesn't want to play or grandkids who need more involvement.
Depending on the size of your room, you might need a microphone or small speaker to emcee the event. Common in large community centers.
If you're involving kids in your Bunco group, consider starting the night with a little craft work where they can name their teams or tables, decorate table signs, help prepare food, or practice math skills on scorecards.
Your Bunco group may never want anyone else to host a Bunco party ever again, so be careful how much you overdo it. You might be the go-to Bunco host forever!
Play the Bunco dice game online, anytime, for free
You can brush up on your Bunco game skills with our free,
online Bunco app
. It works in your browser with no downloads or installation required, on any device, including tablets. It's like your own private Bunco party.
When you're ready to host a Bunco game, snap photos and tell us about it on Facebook.